I am a smart coder- Senior Inventor (12+Python)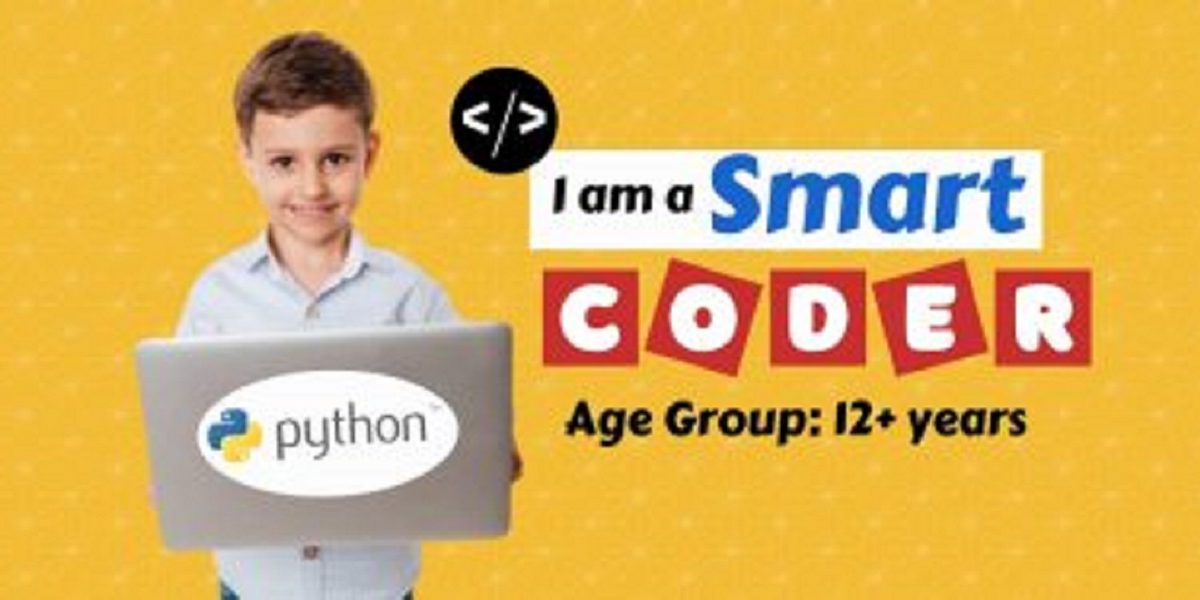 I am a SMART coder-Python (Age 12+)
Python is a general-purpose interpreted, interactive, object-oriented, and high-level programming language. It was created by Guido van Rossum from 1985 to 1990. This tutorial gives enough understanding of the Python programming language.
Python is one of the most popular software, which is being currently used in the market. It forms the essence of AI and ML programming. It was created in 1991. Due to its popularity, there are plenty of companies using python. The major theme behind its creation is "simple than complex". Python has multiple utilities. It enables developers for creating their programs, using coding python. This approach consists of both functional programming and OOPS programming.
ScienceUtsav's Python training course enables children to learn simple Python using simple tricks and hacks!
This is a course where you will learn to code right from the basics of python to building games which they can show off to their friends and peers.
It is a fun 60 hours worth content with day wise structured curriculum which starts slow and then picks up the pace.
Day 0: Basics of Programming(Demo Class)

Get a hang of programming! Lets learn what is programming? why we need it?

Day 1: Orientation with more examples

Day 2: Basics Of Python

Getting started with python learning about things we can do with python

Day 3: Variables and Operators

Teach all variables, use of different variables, and applications for each. Numbers-Int, Float, Strings, Print formating, List, Dictionary, Tuples, Sets and booleans.

Day 4: Python data types

Different type of data types in python from integer, float to dictionary and boolean

Day 5: If-Else statement

II statements are control block in python. They check for conditions and run the code inside the statement when a condition satisfies. Chained comparisons check for multiple conditions to be satisfied.While loops, Break and use of if else statements.

Day 6: For loop

In this session we will learn, What are for loops and why we use loops at all.

Day 7: while loop

Now we will another very useful looping statement known as While loops along with the use of break and else statements with the while loop.

Day 8: Nested loops

When a loop is placed within another loops its called a nested loop. It is very important to master these as it helps a lot in developing more understanding and possibilities.

Day 9: Flow chart

Learning about the basic flow of control in a program and visual representation of code and algorithm

Day 10: Functions in python

Function is a block of code that runs every time it is called. There are many types of functions, main 3 types: without return , without return, with global, with *args,with *kwargs

Day 11: Modules in python

Random module is very powerful, its used to create a variable that can have random values. This can be used games. DateTime module can get the current date and time.

Day 12: Python Setup for Your Computer

In this section we will install a tool called pycharm that allows us to write and execute python programs on our computers without using google colab

Day 13: Creating your own modules and using pip

What is Pip, how to download package. What is the use of package? "reusuablity". python developers create these packages. How the modules and packages are saved in python.

Day 14: File Handling in Python

In this section we will learn what are files and how to use them in python.

Day 15: Tic tac toe game

Create a function to check the matrix(Diagonally, row wise and column wise. Then add if statements to make sure players are not able to rewrite the filled places

Day 16: Tic tac toe game - Final day

Here we will complete our game

Day 17: Introduction to pygame

Day 18: Ping Pong Game - Introduction to AI

Day 19: Ping Pong Game - Full Animation

Make all the movements and collisions proper, and make it a 2 player one game that they can play with friends and family

Day 20: Ping Pong Game - AI functions

Here we will go through all the functions that we defined in our game.

Day 21: Space Invader game - Introduction

Intro to space invader game, show them the game and tell them what has to be done. The5 the game and copy the template and start working on modifications. also complete the background and the player appear on window

Day 22: Space Invader game - Planning

Here we will add all the important elements needed for our game like Bullets

Day 23: Space Invader game - Animations

Make the player move, create enemies and create bullet functions. finally play the game and ask them to improve on the game.

Day 24: Space Invader game - Final outcome

After adding all the images and animations, This will be the final outcome.
Related Courses